How We Can Help Your Internal IT Department With Co-Managed IT Services
Gone are the days when IT departments only had to worry about handling help desk tickets, user satisfaction, and keeping technology running smoothly. Of course, those are still important priorities, but nowadays, IT departments are tasked with more than ever before. Just take a look at some of their initiatives:
Keeping sensitive data safe against hackers that are becoming more sophisticated with each passing day.
Providing the organization with a competitive edge against other current and upcoming players in the industry.
Enhancing the way day-to-day operations flow through the use of systems, devices, and software.
Conducting MAJOR technology roll-outs, such as transitioning on-premises equipment to the cloud.
Staying ahead of the latest and greatest advancements, and in turn, innovating wherever possible to increase profitability.
It's a huge job, even for the best internal technology departments. The truth is, we're in the age of digital transformation and virtually all industries are leveraging technology more than ever before – aiming to do more with less. But this means a lot of pressure is put onto internal technology departments to thrive.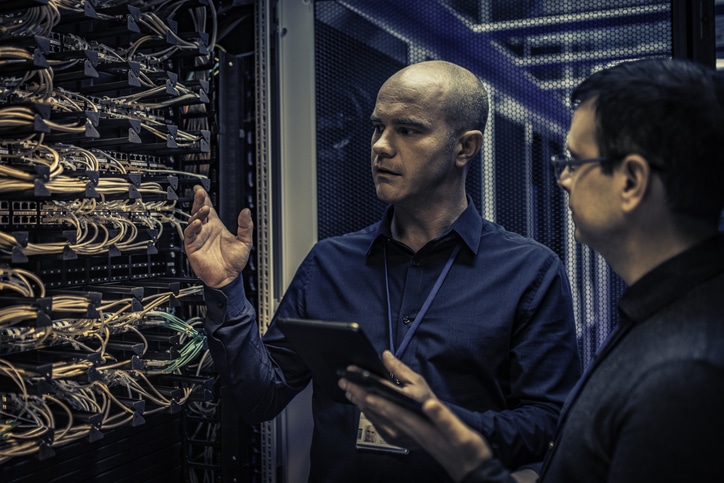 Does Your Internal Technology Department Struggle To Keep Up?
In some cases, internal technology departments are struggling with the basics – like monitoring, maintenance, and backups. When you add all of the priorities of a modern organization embracing digital transformation on top, they're downright overwhelmed. After all, they don't have:
Relationships with manufacturers to get better prices, priority support, etc.
Access to major industry events to learn about the latest tools and tricks
Years of experience that allows them to create processes that work all the time
If they're struggling to keep up, it's understandable. But how do you know? Well, there are warning signs:
They're slow in responding to support tickets and your staff members are starting to complain.
They're not providing you with comprehensive reports regarding system security, performance, and health.
They're not protecting you against virus infections, or at least, it doesn't seem that way because you're experiencing them frequently.
They're not talking to you about your backups and whether or not they're being verified and tested.
They're not sitting down with you to discuss your technology strategy, budget, or overall planning.
So What Do You Do Next?
Well, we recommend augmenting your internal technology department's capabilities. Basically, instead of hiring more people (which is simply throwing more money at the problem), you can outsource to an MSP who will handle some of their workload. You get access to an entire team of technology experts for a flat-rate monthly fee, which means you can take advantage of:
Around-the-clock availability for onsite or remote support as needed for troubleshooting and problem resolution.
Expertise that comes from multiple people with years of training and/or various certifications.
Strategic planning that helps you figure out which tools and/or technologies are needed to meet short and long term objectives.
Vendor management that allows you to alleviate the stress of handling vendor relationships, as well as benefit from discounts and/or priority support.
An MSP is able to provide a range of services depending on your unique needs. Your technology department can work with them to figure out which tasks they want to keep and which they prefer to offload:
Data backup and business continuity
Help desk services
Cloud consulting
Remote monitoring
Regular maintenance
Strategic planning
Business phone systems
Network design and configuration
And much more
Get Started With Co-Managed IT Services
On-Site Computers, Inc. offers co-managed IT services for businesses throughout Minneapolis and surrounding areas. We've been around since 1996 and have a wealth of experience augmenting internal IT departments as needed. Let's work together…
Click here to get started or call us at (800) 669-8513.