Structured Cabling Services
It may not be very exciting, but the business network and telecommunications cabling that makes up so much of an IT infrastructure is one of its most vital parts. Is yours being managed properly?
Why Are Business Network And Telecommunications Cabling So Important?
It doesn't matter how flashy, new and expensive the desktop computers, or enterprise-class routers, or feature-rich telephones are in your IT environment if the cabling isn't installed and managed properly. It keeps everything connected and communicating.
That's why it's so important to make sure that your data and telephone cabling is set up effectively from the start. Whether you're moving to a new office and need to upgrade its network of cables, or have been struggling with an unreliable network for years now and know it's time for a change, it needs to be handled properly.
If not, it won't be long until you'll have to take care of it again. That means pulling up carpet, tearing into walls, and more. All of this disrupts your office environment, throws off your staff's productivity, and of course, costs you money.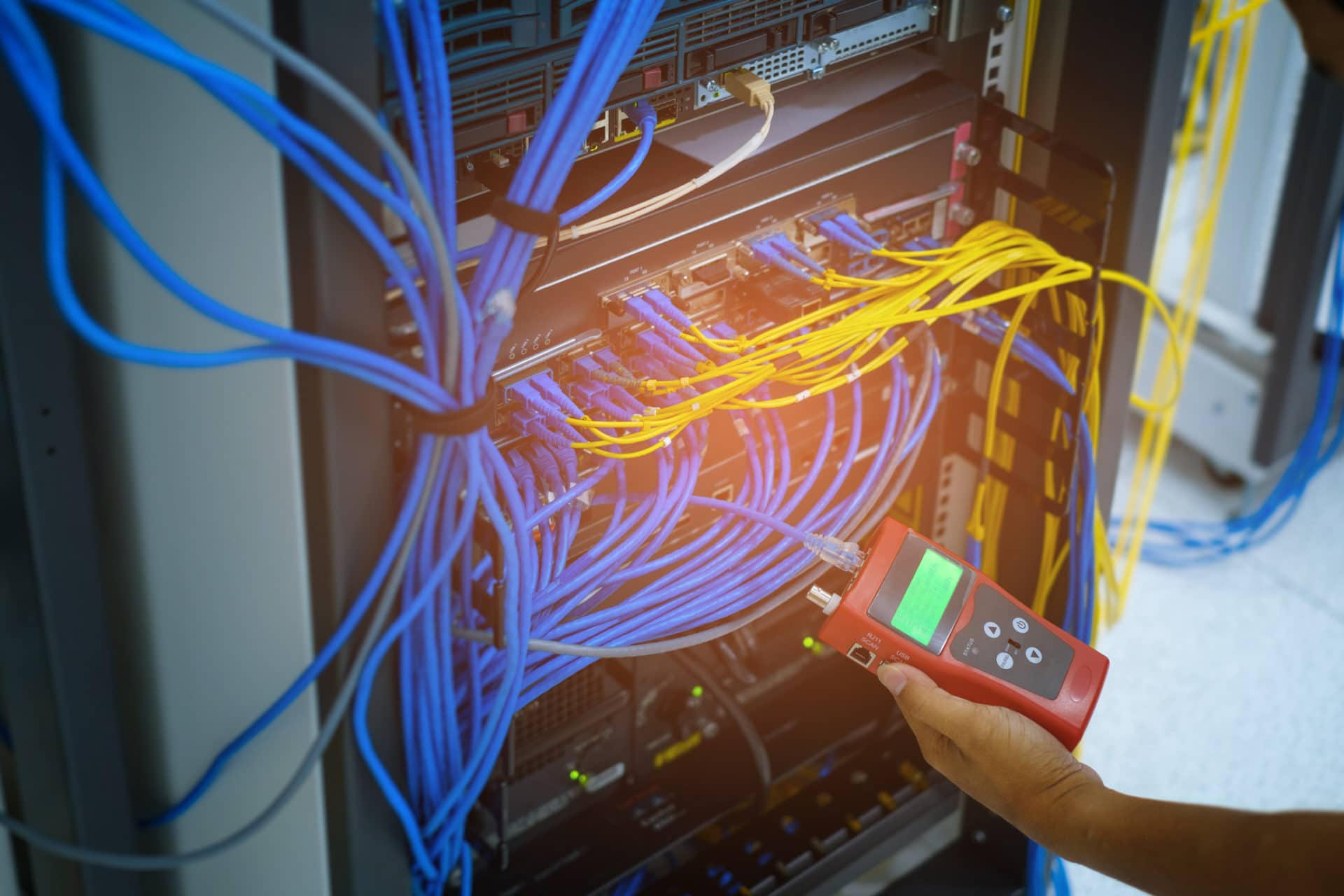 How Does On-Site Computers Inc. Deliver Cabling Services?
In order to avoid having to re-cable your data and telephone networks in the near future, we keep the following considerations in mind:
Plan Carefully – And Plan Ahead
The worst way to approach your cabling is to base it on what you need right now. Meeting your needs as they are in the present is all well and good for the time being – but what about three years from now? Or five years?
Given how fast technology is evolving, you have to consider what type of cabling will support your needs as far down the road as possible and weigh that against current factors like your scope, budget and time frame. Each type of cable – Cat5e, Cat6m, Cat6a, fiber, etc. – has a different spec. The higher the spec, the longer the cable will last.
By considering the spec and what it offers you in terms of longevity while you're still planning, we better predict when you'll have to upgrade your data and telephone cabling next.
Don't Cut Corners To Save Money – It'll Only Be More Expensive
There are two big missteps that businesses make all the time when it comes to their data and telephone cabling.
The first is that they'll buy a generic box of cables independently, without doing any research or consulting with an expert. In the end, the cables aren't right for their needs, or at best, they don't last very long because the spec is so low. The second misstep is that they hire a general contractor, who in turn gets a general electrician to lay the cable.
In both cases, the businesses in question make these mistakes because they want to save money, and they underestimate the importance and complexity of data and telephone cabling. But more often than not, they end up spending more on fixing mistakes, redoing the process, and investing in additional cabling not too far into the future.
By having our team help you choose the right cables and manage the installation, you can make sure it's a one-time expenditure that won't have to be made again for some time.
Test Your Network
The best way to know the state and value of your data and telephone cabling infrastructure is to have it periodically tested. Whether you're moving into a new building, or want to get an idea of the state of your current cabling, have it looked at, taking the spec of the cabling into account.
Often, general electricians don't have the technology on hand to test out cabling infrastructure (as it's very expensive). By working with On-Site Computer Inc.'s team of cabling experts, you can get your infrastructure tested to make sure it will meet your needs.
As with any important investment, you only want to pay for your data and telephone cabling once. Be sure to plan carefully, invest properly, and test your cabling – that way you won't have to repeat the process again sometime soon.