Small Minnesota Law Firm Calls The Computer Consultants From On-Site For Help With New Computer
Hesitating to get a new computer because you're worried about getting it set up? That's why this small Minnesota law firm got in touch with the On-Site team.
Are you worried about replacing your work computers?
I don't blame you — as exciting as it can be to get to use brand new technology, the downside is that you have to set it all up. And while it was a relatively simple process years ago, when you just had to plug it in and install some software, it's a bit more complicated today.
Are you sure you can quickly and safely transfer data from one machine to the next? What about configuring your firewall, anti-virus, and other cybersecurity software? What about connecting to the cloud?
Getting a new computer running is no small task – that's why organizations like this Minnesota law firm come to On-Site Computers:
"Hi. I purchased new computer equipment. I have tons of critical client data on my old equipment. I need help installing new and making sure I have access to old data."
We got this message from the law firm on our website's 24/7 chat function. Right away, our representative began arranging assistance:
"Someone from our office can help you with this. Would you like me to have them contact you? I have forwarded your information to our office, and you will be contacted as soon as possible."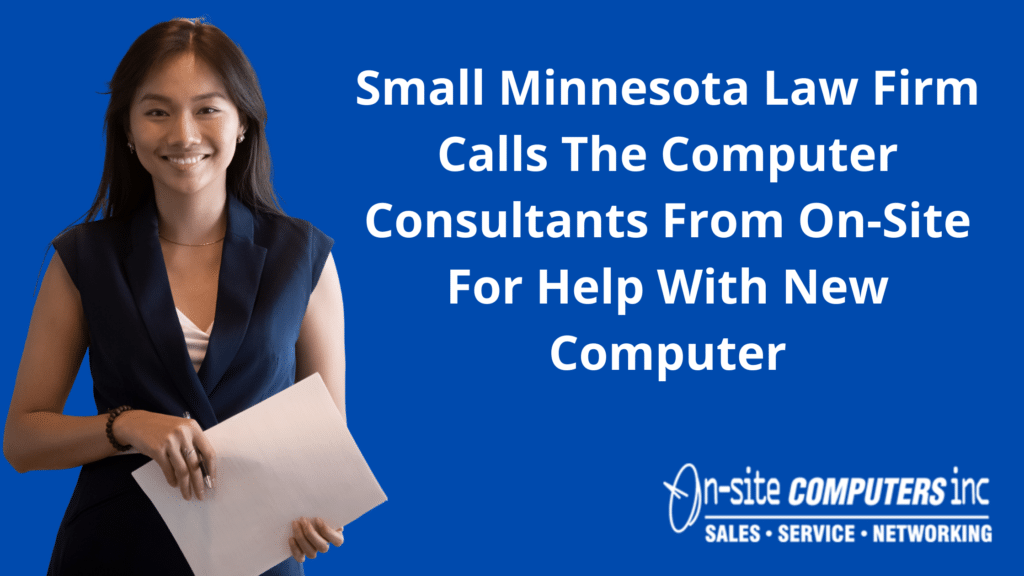 How Did We Help This Small Minnesota Law Firm?
To configure this law firm's new computers correctly and make sure their old client data was successfully transferred, we followed a careful process:
Data Inventory: We make sure to take full stock of all necessary data on the old systems.
Data Backup: We make sure the vital data is backed up as a contingency against any migration process issues.
Migration & Configuration: We schedule and execute the process at a low-impact time for the law firm, ensuring any resulting downtime has minimal effect on their operations.
Verification: We make sure the new computers are configured as per the law firm's expectations and that all data has been successfully transferred.
Do You Need Minnestoa IT Support For Your New Hardware?
We can help you just like we helped this Minnesota law firm — all you have to do is get in touch:
Book a free consultation with our team at a time that works for you.
Let us plan and manage the process of setting up your new computers.
Enjoy your brand new IT environment.